Company Name
Kobe New Transit Co., Ltd.
Established
July 18, 1977
Headquarters Address
6-6-1 Minatojima, Chuo-ku, Kobe-shi, Hyogo 650-0045 Japan
Telephone
078-302-2500 (Main Line)
Purpose of Business

Kobe New Transit Co., Ltd.'s purpose is to do the below in order to operate part of the comprehensive transportation system outlined in Kobe City's Comprehensive Basic Plan, to ensure that transportation is convenient for residents, and to smoothly engage in related business operations.

General transportation business based on the Railway Business Act and the Act on Rail Tracks.
Manage cultural/recreation facilities, dining facilities, sales kiosks, shops, and parking lots, as well as rent out coin-operated lockers and sell alcohol and tobacco products.
Buy, sell, and rent land, buildings, and facilities; carry out construction.
Secure, preserve peace at, maintain, and clean its buildings, as well the buildings, power-supply facilities, etc., attached to such buildings.
Insurance agent business.
Advertising contracting.
All work that is incidental or related to the above.

Stock

Capital stock: 100 million yen
Stockholders: 46
Company Mission Statement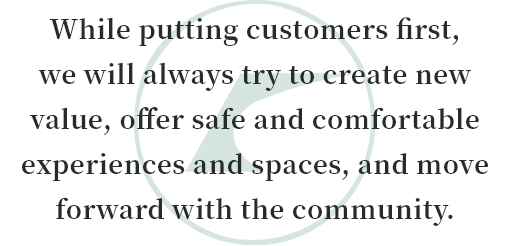 Company History
Founding Overview
Kobe's new transit system appeared to handle new urban transportation demand, solving problems—such as the traffic jams, exhaust, and noise that accompany an increase in demand for transportation—that cannot be addressed with existing systems that combine trains, buses, and automobiles.
Kobe City's 1976 New Comprehensive Basic Plan, seeing railroads as the main artery and buses as capillary vessels of the public transportation structure, understands this new transit system as playing a medium-sized artery-like role that fills the gap between them.
In this way, Kobe's new transit system is a medium-load railway transportation system with a transportation capacity between that of subways and buses. It is a safe, comfortable, and low-emissions urban means of transportation that pursues automation based on the advanced use of computers.
Its infrastructural aspects were built by Kobe City as public works (roads) projects, and Kobe New Transit is in charge of non-infrastructure construction, as well as service and management. This includes the cars, electricity, communications, signals, and station equipment necessary to operate a transportation business.